Fishing with the Anise Worm
Near-Record Redear Caught by the Anise Worm
Huge sunfish tips scales within ounces of Michigan record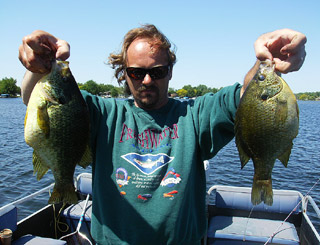 KINDERHOOK, MI - On June 1, 2008, when Kerry Sanner took to the water on a fishing outing in southern Michigan, he had no idea that by mid-morning he would have boated what could arguably be a new state record redear sunfish. The fish, which fell victim to a bubblegum colored Bluegill Anise Worm, was officially measured at 13 inches and weighed in at 1 pound, 13.5 ounces. The current Michigan state record redear, caught in 2002 from Thompson Lake, is listed at 1.97 pounds¹ or 1 pound, 15.52 ounces. The difference was little more than two ounces.
The fish may have actually been a new Michigan state record when caught. The fish, shown on the left in the picture, was put on ice for approximately 10 hours prior to weighing. Officials said that the fish lost a few ounces because of this, and would have been a new state record if the fish had been weighed alive after the catch. "Well, hindsight is 20/20 and without a doubt, if we had known that a fish lost weight [this quickly] we would have taken it in immediately because it was easy to see this one was WELL above average for a redear," remarked Sanner.
The Bluegill Anise Worm, or "Bluegill Worm", is produced by Bass River Outdoors, LLC of Indiana, well-known for the popular Original Anise Worm™. Mr. Sanner has tried a number of multi-hook lures over the years and found the Bluegill Anise to be the most versatile and a personal favorite for his family. The baits catch a variety of species and the Sanners have been using them more than any other type of bait since first discovering them. "Everyone in my family rigs up with a Bluegill Anise 'in their own choice of color' when we do get to fish and we have yet to come home skunked!" This is not the first time a monster panfish has been caught by the Anise Worm in Michigan. In 2002, the Anise Worm was the lure of choice for a Master Angler entry for the redear sunfish category. That foot-long fish weighed in at 1.63 pounds², or just over 1 pound, 10 ounces.
Sanner's catch was taken from one of the seven lakes within the Coldwater Lake chain of lakes in southern Michigan. He has been fishing the area since he was a kid, as his parents vacationed there annually. He now carries on the tradition with his own family. They generally catch larger panfish during the prespawn period in spring. However, it is not uncommon for them to catch several species in a single outing. "We catch bluegill, sunfish, rock bass, warmouth, perch and largemouth bass with frequent regularity and on occasion will reel in a smallmouth, catfish, bowfin or pike - all with a Bluegill Anise."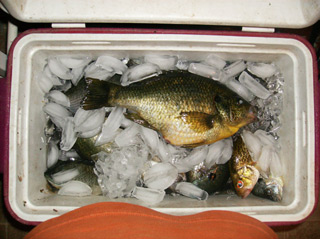 Coldwater Lake has a reputation for good fishing, as it is also the location where the 2002 Master Angler redear was caught using the Anise Worm. Many lakes in Michigan and elsewhere have outstanding panfishing.
The redear sunfish (Lepomis microlophus) is originally native to the southeastern United States, but has been widely introduced in much of North America. It is one of America's favorite panfish, both on the end of a line and on the dinner table. It resembles the bluegill in markings and coloration, perhaps more green on the sides, but with red or orange tabs at the back of the gill cover or "ear" flap. It is also known as a "shellcracker" due to its habit of feeding on snails and clams. The world record redear was caught in Georgia and weighed 5 pounds, 7 ounces. Far more common
| | | | |
| --- | --- | --- | --- |
| | | | Near-Record Redear Caught by the Anise Worm |